DRBA'S MARCH 5TH ANNUAL CELEBRATION AND HIKE
March 4, 2016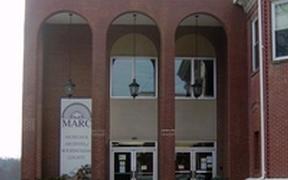 DUKE ENERGY EXECUTIVE TO SPEAK AT DRBA's MARCH 5 ANNUAL CELEBRATION IN WENTWORTH
- - -
MORNING MEETING AT COUNTY MUSEUM
You're invited to a special celebration in Wentworth, NC, at 9:30 a.m. on Saturday, March 5, marking fourteen years of successes by the Dan River Basin Association (DRBA). The program will include an address by Davis Montgomery, District Manager of Duke Energy Carolinas, highlights of DRBA's accomplishments in 2015, a preview of the organization's 2016 activities and an afternoon hike on the nearby Chinqua-Penn Walking Trail, named last spring as a National Recreation Trail.
DRBA's Annual Celebration is being hosted by the Museum & Archives of Rockingham County (MARC), located in the former Rockingham County Courthouse. ( http://www.themarconline.org ) The public is invited free of charge.
Because most mail is delivered to Wentworth via Reidsville, MARC's postal address is 1086 NC HWY 65, Reidsville, NC (GPS 36.398216, -79.771019).
After a half hour to enjoy refreshments and view displays, the short business session will include recognition of extraordinary volunteer service and election of board members. The day's activities will reflect DRBA's mission—preserving and promoting the region's rivers and culture through education, recreation, stewardship, and regional identity.
With preservation of the rivers at the heart of DRBA's focus, work continues to preserve and promote the natural resources of the basin. Staff members, including Executive Director Tiffany Haworth and program managers and coordinators from both Virginia and North Carolina, will report on DRBA's many activities throughout the past year, as well as provide a glimpse of the year ahead.
Davis Montgomery, District Manager for Duke Energy Carolinas will give an update on the Dan River and describe the company's ongoing investment of resources for the Dan River Basin. Duke Energy has been steadfast in seeking public input from across the basin to learn the extent of direct and peripheral damage to the Dan River and to basin communities. This effort has generated a list of projects that address a broad array of remedies to the natural and human damages resulting from the February 2014 coal ash spill. These projects are in the implementation and bidding process for contractors to perform them.
Encompassing portions of sixteen counties in Virginia and North Carolina in its 3300-square-mile watershed, the Dan River Basin includes six rivers—the Mayo, Smith, Sandy, Banister, Hyco and, of course, the Dan. DRBA was formed in 2002 to preserve and promote the region's abundant natural and cultural resources. Recognizing that this beautiful area shares a history of reliance on the rivers for drinking water, transportation, commerce, and industry, DRBA provides a unified vision of cooperation across geographic boundaries.
After lunch, at 1:45 p.m. all are invited to a 1.7-mile hike on the Chinqua-Penn Walking Trail. In June 2015 Secretary of the Interior Sally Jewell recognized it as a National Heritage Trail. The hike coordinator is Lee Templeton, Chair of Friends of Chinqua-Penn Walking Trail, who will point out historic stone structures built over 80 years ago for Jeff and Betsy Penn, owners of Chinqua-Penn Plantation.
Templeton comments, "The Trail incorporates sun and shade, hills and flatland, and trees and pasture as it follows a small brook to two ponds along the way." Hikers may spot early spring birds, some of the scores of species identified in the varied habitats on this North Carolina Birding Trail.
Participants in the Celebration may bring a picnic lunch to be eaten at the MARC or the Chinqua-Penn Trail's picnic tables, or dine at a local restaurant of their choosing (map available at welcome table). Those joining in the after-lunch hike should wear hiking boots or walking shoes, dress in layers, and be prepared to sign a waiver.
DIRECTIONS: The MARC is located at 1086 Highway 65, Reidsville, N.C. 27320.
From the south on US 29, take Exit 149, and turn left onto NC 87N. At the first traffic light, continue straight onto Freeway Drive (NC 87/US 29 Business). Drive 3.4 miles. Take the ramp onto West Harrison Street (NC 65/NC 87), and turn left toward Wentworth. Drive 4 miles. Continue straight on NC Highway 65 for 1.9 miles. The MARC is on the left.
From the north on US 29, take Exit 153, and turn right onto US 158/NC 14. At the second traffic light, turn left onto Freeway Drive (US 158/US 29 Business). Drive 2.2 miles, and take the right lane to the ramp to reach West Harrison Street (NC 65/NC 87). Turn left toward Wentworth. Drive 4 miles. Continue straight on NC Highway 65 for 1.9 miles. The MARC is on the left.
From US 220, take the ramp to NC 704 toward Wentworth. Turn east toward Wentworth. Drive 7.9 miles. When NC 704 ends, continue straight onto NC 65E. Drive 2.3 miles. The MARC is on the right.
Parking is available on both sides of the building and behind it. Follow signs on the property to enter the main entrance at the left-hand (east) side of the building. Stairs and elevator to the meeting place on the second floor are to the left.
MORE INFORMATION: Contact T Butler, members@danriver.org or 336-613-6723.
Meetings and outings of the Dan River Basin Association are free and open to the public. For more information visit www.danriver.org.
X X X
Suggested caption for photo:
The Dan River Basin Association's Annual Celebration will be held at MARC, the Museum & Archives of Rockingham County, in Wentworth, NC on Saturday morning, March 5. The public is invited to this free event.
Author of press release: T Butler