NEW RIVER ACCESS ON THE DAN - PUBLIC INPUT MEETING
February 11, 2016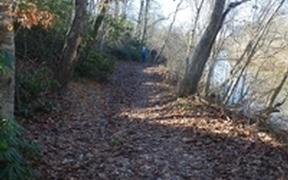 Rockingham County is partnering with the Dan River Basin Association (DRBA) to develop a river access and environmental park on a portion of the former Gov. Alexander Martin plantation.
Because the site has considerable historical significance, MARC and the William Bethell Chapter of the DAR will host a hosting a public "drop in" input meeting on February 11 from 5:30 p.m - 7:00 p.m. at the MARC, 1086 Hwy 65 in Wentworth.
Everyone is invited to attend and provide comments and suggestions for historical interpretation of the site, as well as the park's amenities. Refreshments will be provided.
Major funding for purchase of the property has been provided by the Duke Energy Water Resources Fund. Other support is coming from Rockingham County and DRBA members. For more information, contact Jenny Edwards, DRBA Program Manager, at 336-339-6169 or jedwards@danriver.org.