MAYODAN MOUNTAIN BIKE TRAIL BUILDING DAYS! MULTIPLE DAYS TO PARTICIPATE!
September 24, 2014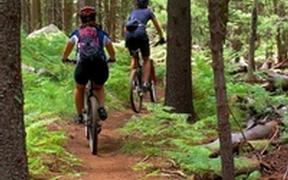 Help build the Mayodan Mountain Bike Trail at Farris Memorial Park! No experience necessary, but any shovels, rakes, gloves, mattocks that trail builders are willing to bring are much appreciated.
We have several trail building days planned. To sign up for any of the scheduled work days, just click here.
All volunteers DURING REI DAYS receive a DRBA T shirt or a cookout lunch with our hearty thanks! We'll have plenty of snacks and beverages on hand as well for all the volunteer days.
There are few things in life more satisfying that building trail - if you've done it, then you know. If you've yet to experience, this is a great opportunity to connect with some great people! This trail is going to introduce reach so many youth and adults to mountain biking and will be the officially adopted trail of the Mountain Bike Club at McMichael High School.
Click here for event flyer.