TROUT IN THE CLASSROOM
November 15, 2013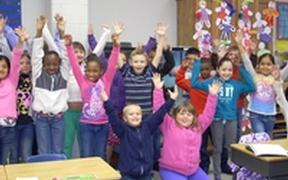 This year marks the 9th season of our awarding winning Trout in the Classroom program. Now almost a decade into the program, it is larger and better than ever! The program will consist of 42 tanks this season in 5 counties - Henry, Franklin, Pittsylvania, Patrick and Rockingham. The program will have all three types of trout again this year, Brooks, Browns and Rainbows, and it is expected the program will reach over 4,000 students this year alone! The students can barely contain themselves as the tanks are being set up, wondering when they are going to get the fish.
Little do the students know, they are getting so much more than the trout and a tank. A year of excitement, responsibility, learning and sometimes sadness comes with raising trout. The students get to see the entire life cycle and learn about things like the trout habitat, pollution, water quality and food webs. Sometimes the students also get to see the not so exciting things like the death of several trout, but they quickly learn that this is a natural part of any life cycle.
Throughout the season, each classroom will receive a presentation selected by the teacher to match the curriculum they are learning and aligned with the state learning guidelines for the grade. The presentations have been worked on like that over the past couple of years, and it seems to be that the students are remembering what they are learning dealing with the environment, trout, and habitat better because the students are able to repeat the information when they release the trout in the Spring. The students have to learn the information according to the state guidelines, but they have the tank in the classroom to directly relate to, and it seems that is helping them pull the information together more easily.
The final lesson for the program is when the trout are released into a suitable stream at the end of the season. Most of the students do not want to let the trout go, but they understand that the trout will not survive forever in a closed tank system. The trout need to grow and thrive in their natural environment and since the students want the trout to survive in the stream, hopefully, they will want to take care of the stream in the long term, and our environment.