Hike on Big Rock Farm.
November 4, 2017
10:00 AM - 2:00 PM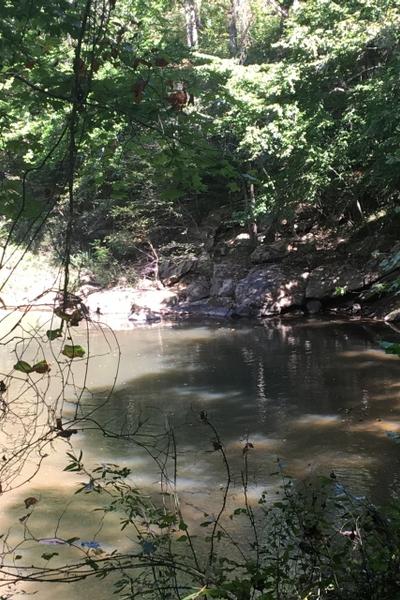 You are invited to join the Dan River Basin Association (DRBA) for an unusual November 4 First Saturday Outing. DRBA will hike 1.3 miles along the Sandy River in Danville, Virginia, with the property owners' permission. DRBA thanks the landowners for graciously giving permission to traverse their land.
Participants will meet at 100 Big Rock Road, Danville, VA (GPS 36.6045, -79.4466)
to begin the out-and-back hike over rolling piedmont terrain. A portion of the walk will be through woods, with most of the route skirting field edges of Big Rock Horse Farm. The Sandy River will be visible from many spots along the walk, including the "Big Rock" that gives the road and farm their name.
Coordinator Lucas Conkle, DRBA's Outings Chair, recommends long pants, due to undergrowth in the forest. Conkle comments, "Plan for a walk along the rolling fields and woods of Big Rock Horse Farm. Expect to see some interesting rock formations along the Sandy River, and look for signs of beaver activity in the area."
The Sandy River is the shortest of the five river tributaries of the Dan River, which are, from west to east, the Mayo, Smith, Sandy, Banister, and Hyco. The Sandy is located entirely within Pittsylvania County and the City of Danville, where its southeasterly run empties into the Dan.
This outing is DRBA's first excursion along the Sandy, even though DRBA has hosted over 180 First Saturday Outings over the past fifteen years. Whether floats on the rivers and lakes, or hikes along trails in the basin, DRBA's year-round First Saturday Outings (FSOs) continue to be free and open to the public. DRBA members are entitled to a personal notice about each FSO, as well as invitations to members-only outings.
Participants in the outing should supply water and lunch, wear long pants, hiking boots or shoes and layers of water-shedding artificial fabric or wool, and be prepared for rain or wind. All participants will be asked to sign a waiver.
To reach Big Rock Horse Farm from the east or south, travel to Danville on US-58 (from South Boston) or US-29N (from Reidsville). Exit onto US-29 Business North. Drive 2.7 miles, and turn slightly left onto Memorial Drive. After driving 0.9 mile, turn left onto Piedmont Drive, and drive 0.3 mile. Take the ramp onto Riverside Drive, and continue 1.2 miles. Turn right onto Barrett Street for 0.1 mile, then left onto Westover Drive for 0.2 mile. Turn right onto Blair Loop Road. Drive 0.9 mile, and turn right onto Big Rock Lane. After 0.2 mile, turn right onto Big Rock Road. The destination is a private drive into the farm on the right.
From the west, take US 58 (from Martinsville) or US 311(from Eden) toward Danville. Exit onto US-58 Business East in Westover. Drive 3.9 miles. Turn left onto Church Avenue, and continue for 0.4 miles. Turn right onto Westover Drive. After 0.2 miles, turn left onto Blair Loop Road. Continue for 0.6 miles, and turn left onto Big Rock Lane. After 0.2 mile, turn right onto Big Rock Road. The destination is a private drive into the farm on the right.
Outings and meetings of the Dan River Basin Association are open to the public without charge.
For more information, contact Lucas Conkle, conklel@alumni.greensboro.edu.