ECO-TOURISM OFFICIALS VISIT EDEN
May 22, 2013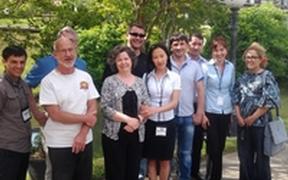 A delegation of eco-tourism business owners from the former Soviet Union visited Eden on May 14, 2013 to discuss river-based cultural tourism and environmental stewardship in Rockingham County. The delegates, from what is now the country of Tajikistan, were hosted by the Dan River Basin Association (DRBA), Three Rivers Outfitters, and Piedmont Folk Legacies as part of the "Rockingham County Jobs, Forests, and Rivers Initiative" (RCJFR).
RCJFR is an initiative to enhance opportunities for job growth through stewardship of rivers and forests and prepare Rockingham County for the impact of global environmental changes. It is made possible through funding from the Reidsville Area Foundation, Model Forest Policy Program, and DRBA members.
The Tajikistan delegation's visit was in conjunction with the Open World Leadership Center's "Economic Development through Ecotourism: Incentivizing Cooperation." Delegate members work in the eco-tourism field including hikes, preservation of natural and cultural heritage, backcountry excursions on camel- and horseback, production of tour guides, and more.
The small country of Tajikistan shares some common themes with Rockingham County: low economic productivity, high unemployment and poverty. Programs such as Open World support economic growth, health, and education through the development of eco-tourism and other initiatives. Like Rockingham County, the region is culturally rich, with unspoiled landscapes and rivers that hold the potential to draw adventure-seekers.
"Since its founding by Congress in 1999, the Open World Program has enabled more than 14,000 current and future Eurasian leaders to experience American democracy, civil society and community life; work with their American counterparts; stay in American homes; and gain new ideas and inspiration for implementing change back home. Some 6,000 American host families and their communities in all 50 states have partnered with the U.S. Congress and Open World to make this ambitious public diplomacy effort possible."
For more information about RCJFR, contact Jenny Edwards, Rockingham County Program Manager for the Dan River Basin Association at jedwards@danriver.org or (336) 339-6169.