Elementary Students Showcase TIC and STIC at Spring Exhibition of Learning
May 31, 2017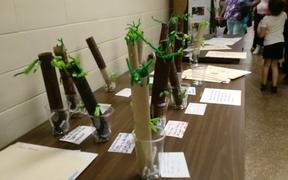 Last week, students from Albert Harris Elementary school showcased all of their hard work from their participation in the Trout in the Classroom and Streamside Trees in the Classroom programs at their spring Exhibition of Learning. The Exhibition of Learning is held after school hours so the students can bring their parents and families to school to learn about some of the projects they have done during the school year.
This year, STEM and learning about the environment was a big focus for Albert Harris Elementary, thanks to STEM Teacher, Ms. Laurie Witt. Ms. Witt worked closely with DRBA Education Manager, Krista Hodges, to provide the TIC and STIC programs for their students. Albert Harris has a STEM Lab that is visited by all students so they can participate in hands-on projects throughout the school year.
All grade levels participated in science/nature related projects. Students in second grade raised trout and learned about their life cycle through the TIC program. Students in fourth grade learned about native plants by rooting Black Willows in their classroom through the STIC program. The other grade levels participated in environmental education projects like raising frogs, butterfly life cycle, and recycling.
Albert Harris plans to participate in the TIC and STIC programs again next school year. To learn more about DRBA's environmental education programs, visit http://www.danriver.org/programs/environmental-education/for-educators or contact Krista Hodges at khodges@danriver.org