IN MEMORY OF FORREST ALTMAN
January 27, 2014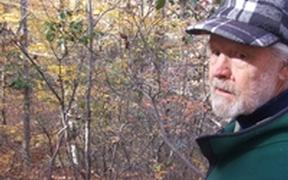 Online condolences can be offered at: www.brownwynnemillbrook.com. A service of remembrance will be held at Eno River State Park, Cole Mill access, in Durham, on Sunday, February 2, 2014 from 2-3 pm.
Dr. Walter Forrest Altman, February 2, 1924 – January19, 2014
DRBA remembers Walter Forrest Altman, Ph. D.—author, paddler, poet, environmentalist, activist—as our ambassador for the Dan River Basin. With a sense of urgency, Forrest used his considerable talents and energy to educate scores of citizens to be good stewards of the basin, which he knew well from personal exploration of the entire river. His love of nature, his reverence for the river, and his observation of human nature are reflected in his Dan River Book,which describes his journey down the Dan.
When DRBA was formed in 2002, Forrest recommended men and women he had encountered during his river odyssey to join him on DRBA's first board of directors. Through the years he helped to select many of the First Saturday Outings and expertly paddled the streams or gracefully hiked the trails, often reciting appropriate and inspirational verses of poetry from memory. It was always a privilege to be in or near his canoe or walking alongside him to share in these moments of wonder and joy.
Some of Forrest's projects held a particularly special place in his heart. He envisioned a heritage trail system to link elements of the rich history of his beloved Caswell County. Under Forrest's persistent prodding, DRBA created a master plan for this trail system and, with other partners, is making these trails become a reality. For decades Forrest led the December Sprig Outing to gather mistletoe and holly from the Upper Little River. Characteristically, he shared the ancient story of mistletoe with all who participated. Made into natural Christmas decorations, these evergreens were sold to benefit DRBA.He last gathered Christmas evergreens in 2013, only a few weeks before his passing at the age of 89.
Forrest's legacy will live on for as long as DRBA exists, and for as long as people love and care for the natural heritage of the Dan River basin. Forrest never met a stranger and never passed up an opportunity to share a scientific or literary tidbit that helped to make the outdoor experience especially memorable. Many learned to paddle under his tutelage.
In 2008 when Forrest received the first "Spirit of the Dan River Basin" award, DRBA's highest honor, the following citation was read:
"Shortly after a river begins its journey, a personality manifests itself. The river laughs heartily, always with a vigorous step, moving with purpose and agility. The river travels many miles in its life. It takes many turns as it observes the vistas of the surrounding land. Farther along its path, the river slows noticeably, still moving, though, with grace and with power.
"The character of the river has matured – it has grown into a body of broad wisdom, it shelters deep pools of thought, and forms still reflections of the landscape. Yet, when conditions warrant, it roils up and out of its banks of conformity and constraint and etches new chapters upon the basin. Change is good – always good, under the watchful eye of the river.
"This is the life of the river; it is a spirit that surrounds us and a spirit that lives in all of us. We breathe it in the air, we feel it underfoot in fields and on the trail, and we hear it in the splash and the gurgle of the stream. The spirit of the river is forever."