PADDLE FROM RYANS BRANCH TO OTTER CREEK
July 6, 2013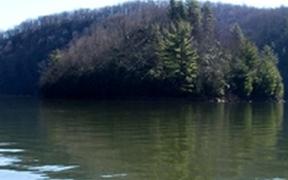 Dan River Basin Association on Philpott Lake July 6
Paddle from Ryan's Branch to Otter Creek
Cool off with the Dan River Basin Association (DRBA) on Philpott Lake on July 6!
DRBA's First Saturday Outing will be a four-mile paddle on the lake in Franklin County, Virginia, from Ryan's Branch Recreation Area to Otter Creek. Philpott Lake is a blue gem, nestled in the foothills of the Blue Ridge and surrounded by forested shores.
Participants will meet at the Ryan's Branch launch on Fairy Stone Park Road (GPS 36.850780, -80.100160). Three Rivers Outfitters of Eden, 336-627-6215 or www.3-R-O.com, will offer boat rentals and shuttle for the outing.
Coordinator for the paddle is Wayne Kirkpatrick, DRBA board member and former president. According to Kirkpatrick, "The lake is always beautiful with deep, clear water. After launching at Ryan's Branch, we will turn north under Union Bridge and follow the shoreline on the right for two miles up an arm of the lake.
"After paddling the first mile, leaving the main channel of the lake," Kirkpatrick continues, "the right shoreline gets steeper and paddlers are rewarded with an enormous rock wall rising some 200 feet from the lake.
"Called Calico Rock, this unique outcropping is made up of a mixture of minerals ranging from light to dark in color. The resulting spotted or mottled appearance resembles calico cloth, hence its name."
The destination of the paddle is the confluence of Otter and Runnett (or Rennet) Bag creeks, where paddlers will stop for a shady lunchtime rest.
The Dan River Basin Association has a unique partnership with the US Army Corps of Engineers (USACE) at Philpott Lake. DRBA works to increase trails and recreational opportunities at the lake, which straddles Patrick, Henry, and Franklin counties.
Called a national model, the cooperative agreement has been honored locally with a celebration of the partnership at Philpott Visitor Center in March. Regionally, in 2011 the DRBA-USACE partnership received the first USACE Excellence in Partnership Award from the South Atlantic Division of USACE.
In March 2013 Wayne Kirkpatrick and Rocky Rockwell, Operations Project Manager at Philpott Lake, gave a presentation about the joint efforts at the national conference of the Association of Partners for Public Lands in Portland, Oregon.
Rockwell states, "The burdens of managing Philpott Lake under future budget concerns are lightened knowing that we have partners like DRBA."
Participants in the outing are asked to dress in layers of quick-drying fabric, to provide boat, paddles, life jacket for each boater, lunch and water, and to sign a waiver.
To reach the Ryans Branch Recreational Area launch from US 220, exit onto VA 57A West toward Fieldale/Bassett. Continue on VA 57 (Fairystone Park Hwy) for 13 miles. Turn right onto VA-346 (Fairystone Lake Drive) for 0.5 mile. Turn left onto Fairystone Farm Lane for 0.1 mile. Continue onto Union Bridge Road (Route 623) for 5 miles. After Route 623 crosses Union Bridge, it becomes Fairy Stone Park Road. The destination is on the right.
From Stuart, drive north on US 58. Turn right onto VA 8 for 3.9 miles. Turn right onto VA 57 (Fairystone Park Hwy) for 7.9 miles. Turn left onto VA 346 (Fairystone Lake Drive) and follow the above directions.
Outings and meetings of the Dan River Basin Association are open to the public without charge.
For more information about the outing, contact Wayne Kirkpatrick,
540-570-3511, wynbtyk@embarqmail.com.