PARTICIPATE IN
May 5, 2015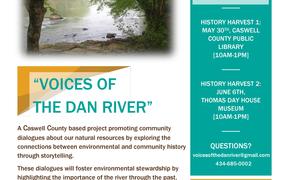 This May and June, the Dan River Basin Association (DRBA) and Thomas Day House (TDH) are hoping to give voice to the Dan River through the historical narratives of Caswell County residents. "Voices of the Dan River" is making its debut in Caswell County as one of three History Harvest programs funded by History United this year. The goal of "Voices of the Dan River" to promote community dialogues about our natural resources by exploring the connections between environmental and community history through storytelling.
Project leads Amy Farinelli of DRBA and Evelyn Riley of TDH will be engaging the community through 5 oral history interviews, each about 20-30 minutes in length to be scheduled in advance (email voicesofthedanriver@gmail.com/call 434-685-0002). In addition to the interviews, there will also be two History Harvest events. These Harvests invite the public to engage with their history by bringing materials, such as photographs and other objects or artifacts relating to the Dan River, that will then be scanned or digitized. The first History Harvest event will be held May 30th, 10am-1pm at Gunn Memorial Public Library in Yanceyville, the second on June 6th, 10am-1pm at the Thomas Day House Museum in Milton.
"About 10 miles of the Dan River flows through Caswell County, we aren't exactly sure what stories we will uncover but we are certain that the river and other natural resources in the area have had a tremendous impact on the community. We just need people to provide those stories," says Riley, TDH Outreach, Education, and Public Relations Coordinator. "But in order to get a multifaceted and inclusive historical narrative, we feel it is especially important to have diversity in our oral history interviews, so we are encouraging people of all backgrounds to participate."
A mini-documentary highlighting these regional stories will be created from the compiled oral histories, premiere date to be announced, for the public to enjoy and discuss. "By highlighting the importance of the river through the past, present, and future we hope to inspire an interest in and a dialogue surrounding the Dan River and our natural environment as a cultural fixture within our community, promoting environmental stewardship and the protection of these resources like you would with any other area or landmark of historic significance," says Farinelli, DRBA's Program Coordinator in Caswell County.
Farinelli envisions the future of "Voices of the Dan River" continuing well beyond its film debut, however. "My hope is that eventually 'Voices of the Dan River' will reach and encompass the entire service area of the Dan River Basin, since each community's relationship and use of the river is different and we want to capture all of those stories. This is a great place to start and we are excited to capture Caswell County's narrative of the Dan River." All information gathered from the Caswell project will also be housed in perpetuity on History United's online database of local history for public use.
If you are interested in participating in one of the oral history interviews, please email voicesofthedanriver@gmail.com or call 434-685-0002.