December 2 Outing Near Belews Lake
December 2, 2017
10:00 AM - 2:00 PM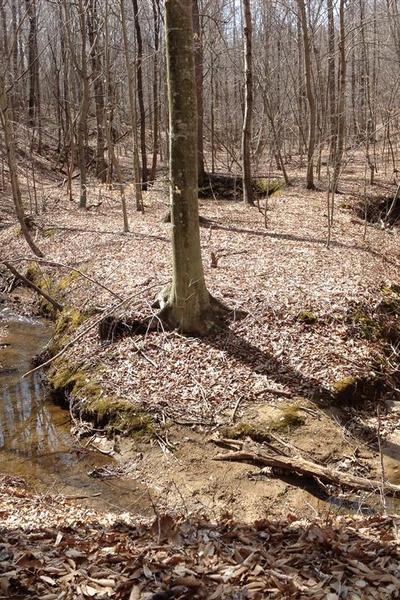 The December 2 First Saturday Outing of the Dan River Basin Association (DRBA) will be a 3-mile hike over rolling terrain at Knight-Brown Nature Preserve near Belews Lake in Rockingham County, NC. Gathering at 10:00 a.m. at the trailhead, 221 Waterfield Lane, Stokesdale, NC (GPS 36.3115, -80.0042), hikers will be met by coordinator Will Truslow, an avid hiker.
Truslow, a former DRBA president, is a board member of Piedmont Land Conservancy, which owns and developed the 180-acre property. Numerous volunteers have donated their time and energy building the trails, which are part of the Rockingham County Pathways Plan.
According to the conservancy, the preserve "showcases a wooded valley, two gently rippling streams, many different types of ferns, spring wildflowers and the rare eastern leatherwood shrub." On this late autumn walk, trees will be nearly bare, exposing the terrain, and much of the forest floor will be covered with newly fallen leaves.
Truslow adds, "This preserve has the feeling of being in the mountains.  There is a beautiful stream, called Mountain Creek, which runs down the middle and flows into Belews Creek.  There are lots of mature beech, hickory and oak trees, along with many ferns." 
In addition to its walking trails, the preserve has an informational kiosk at the trailhead, picnic tables, and several benches along the trails. The property is in the watershed of Belews Lake, which provides cooling for Duke Energy's largest coal-fired power plant and is used for recreational boating and fishing. Below the lake, Belews Creek joins the Dan River.
Land for the Knight-Brown Nature Preserve was donated by Cecilia Brown, who inherited the property from her partner, Paul Knight. Ms. Brown, who lives in Santa Barbara, California, fulfilled the wishes of Mr. Knight, who did not want development to take place on the beautiful acreage near his former home in Stokesdale.
Participants in the outing should dress in layers of synthetic fabric, wear hiking boots, and bring walking stick, lunch and water. All participants will be asked to sign a waiver.
To reach the Knight-Brown Nature Preserve, travel on US 220 between Oak Ridge and Madison, NC. Turn west onto Simpson Road, which is 5 miles south of the NC 704/US 311 bridge and 1 mile north of the merger of NC 68 with US 220. Follow signs for Simpson Road for 3 miles, going straight at the first stop sign. Turn left at the second stop sign onto Ellisboro Road. Drive 0.4 miles. Turn right onto Shelton Road. Take the second right onto Campsite Road, and turn right onto Waterfield Road. The trailhead is at the end of Waterfield Road at the cul-de-sac.
Outings and meetings of the Dan River Basin Association are open to the public without charge. For membership and other information about DRBA, visit www.danriver.org.
For more information about the trip, contact trip coordinator Will Truslow, 336-547-1903, willtruslow@hotmail.com.