CLEAN-UP & FSO
August 3, 2013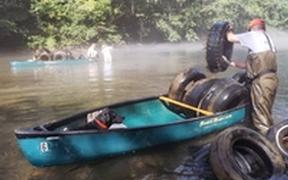 Join DRBA, Gateway Streetscapes, Henry County and other community partners in the 2nd Annual Smith River Clean-up.
This year, we will be covering 30 miles of river again. We will start at the Philpott Dam and end at Mitchell Bridge. Pick your section of river to cover or come to Fieldale Park first thing Saturday morning for assignments. You can pre-register earlier in the week.
If you are unable to attend the clean-up, there are other ways you can help. You can make a donation to help with the costs of the cook-out or any in-kind donations would be appreciated as well.
Gloves, trash bags and a cooler of drinks will be provided. Areas along roads will be available as well if getting in the water is not your thing!