DRBA Education Manager Named Board Member of State Education Board
November 29, 2016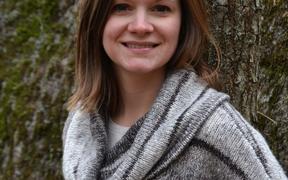 The Dan River Basin Association (DRBA) announces the Board appointment of Education Outreach Manager Krista Hodges to the Virginia Association of Environmental Educators Board of Directors. The Virginia Association for Environmental Education (VAEE) is a network of environmental education professionals working collaboratively to advance environmental and sustainability education in the Commonwealth by building environmental education capacity, supporting professional learning, increasing networking opportunities between educators, and sponsoring an annual professional learning institute. The VAEE serves as an advocate for environmental education and sustainability education through policy and legislation and is the state affiliate member to the North American Association for Environmental Education.
Krista Hodges of Rocky Mount, VA has been with DRBA since 2011 and manages a variety of education and outreach offerings including the award-winning Trout in the Classroom and the Streamside Trees in the Classroom programs throughout both Virginia and North Carolina. She provides support for operations in the Martinsville/Henry County office and is responsible for developing and implementing education programs basin wide.
"Krista exemplifies the kind of young professional any community would be proud to call their own. She has provided our community with a variety of education programs, including the award winning Trout in the Classroom program, and she takes an active role in preserving and promoting our cultural and natural resources. Krista invests herself professionally in her role with DRBA and personally in the lives she touches with her community involvement," according to Brian Williams, Program Manager.
"I am thrilled to be elected onto the board of the VAEE," said Hodges. "I look forward to serving as an advocate for environmental education throughout the state while representing the EE community at-large. Making sure students and educators have the opportunity to learn and experience environmental education opportunities is crucial to the protection of our natural resources."
Hodges provides the development and the implementation of hundreds of environmental education programs every year that reach over 7,500 youth annually. She also designed DRBA's Water Protector Certification Program, which helps families and businesses conserve and protect our regional rivers and streams. The program is available now on DRBA's website - danriver.org. She is currently working on an online program that can potentially reach every child and adult in the 3,300 square mile Dan River Basin.
"Krista knows how important it is for children to be a part of the natural world, and was selected for the Board position based in part on her passion and enthusiasm for working with children and the environment and her recognition as a statewide leader in Environmental Education," said Tiffany Haworth, Executive Director of DRBA. "We are very proud of this accomplishment and lucky to have her in the community."