DRBA ONLINE AUCTION FOR ENVIRONMENTAL EDUCATION!
March 16, 2016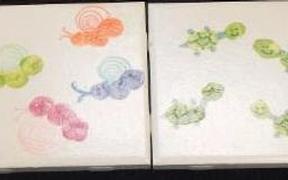 Place your bids now for the most unique gifts you can give yourself... or someone you love! Hundreds of students from schools in our region have handpainted ceramic tiles with nature scenes to raise money to support DRBA's environmental education programs in classrooms. Each one is unique and painted by a student who is passionate about the environment. Please help keep them engaged and inspired! Every purchase will provide support for thousands of students to participate in DRBA's Environmental Education programs in the Dan River Basin.

The tiles are being auctioned as 4-piece coaster sets, individual tiles and bundles of tiles to use for whatever creative project you have in mind. You can choose to pick up your purchase at our Henry County or Danville, VA offices or in Eden, NC. Or you can choose to have them shipped directly to you for a small shipping fee.

Our Nana's Attic has generously included these tiles in their auction to support DRBA's education programs. Bidding ends Friday, March 25.

To browse and bid:
Visit the ONLINE AUCTION SITE and go to PAGE 4 or type in the school name in the "search this auction" window to bid on the beautiful artwork created by students at Moss Street Elementary, Huntsville Elementary, Rich Acres Elementary, Snow Creek Elementary and Patrick County High School. You will need to register on the site to bid.

Thank you for your support!