RECYCLE FOR A CAUSE
March 10, 2014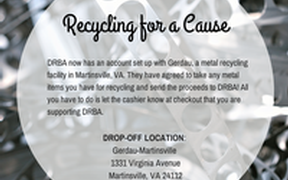 If you enjoy recycling and want to know what more you can do to help the Dan River Basin Association, then we have a new program for you to be involved with. DRBA now has an account set up with Gerdau, a metal recycling facility in Martinsville; they will recycle any metal you bring by and send the funds to DRBA!
All you have to do is take your unwanted metal to Gerdau and let the cashier know to give the money to DRBA, that's all!
Drop off location: Gerdau-Martinsville
1331 Virginia Avenue
Martinsville, VA 24112
(540) 580-9371
What items can be collected? Anything that is metal. Steel, cast iron, scrap automobiles, old kitchen appliances, washers, dryers, car rims (no tires), brass, copper, scrap aluminum, aluminum beverage cans, tin cans (canned food, coffee, dog or cat food) – must be rinsed.
If you have any questions, please feel free to contact Krista Hodges at khodges@danriver.org.