Vote in Volunteer of the Year Contest
November 29, 2016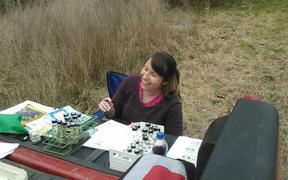 DRBA's 2016 Volunteer of the Year Nominee is Jessica Driver! A thoughtful and kind soul with a passion for the natural world, it has been truly a pleasure to work with Jessica Driver in her role as a Dan River Basin Association (DRBA) volunteer. Jessica began working with DRBA through our Danville Citizen Water Quality Monitoring (CWQM) Program, involving year-long monthly stream water sampling and lab testing for the presence of E. Coli bacteria. Jessica quickly became one of our most dedicated citizen scientists, committed to going above and beyond at every opportunity. In 2016 when we added quarterly monitoring for aquatic insects to the program, Jessica enthusiastically added this to her CWQM responsibilities and completed several training hours along with a certification exam (pictured above!) in order to participate in both monitoring methods. It is clear from interacting with Jessica and her attention to detail that she volunteers with DRBA out of a love of learning, passion for discovery, and a deep desire to protect local waterways and her community. In addition to her hours devoted to DRBA, Jessica works for the Virginia Department of Agriculture, has served as an officer with the Southwest Piedmont Chapter of Virginia Master Naturalists, and as a volunteer for Pittsylvania County SPCA and Southside Virginia Wildlife Center. The Dan River area nonprofit community is fortunate to have such a dedicated and caring individual.
The Volunteer of the Year is an annual event which starts by having a period of time in which people from the community can nominate individuals they believe embody the spirit of volunteerism and who give back to their community through their time and efforts. After the nomination period concludes, there is a community wide vote to determine the Volunteer of the Year public vote winner. The nominee with the most public support will then have a monetary gift donated in their name to the local nonprofit of their choice. This year DRNN will also have an impartial committee select an additional volunteer to receive the Danville Toyota sponsored Volunteer of the Year committee award and a monetary gift donated in their name to the nonprofit agency of their choice.
2014 Winner: Dr. Charlton Strange, a volunteer with the Free Clinic of Danville
2015 Winner: Melinda Dalton, a volunteer with God's Pit Crew
Voting at GoDanriver.com continues until Sunday, December 4th (instructions on how to vote here) and can be done once daily per account. In order to emphasize the gift volunteers give, there is also a recognition ceremony for all nominees that will be held on December 6th at 5:30PM at the Institute for Advanced Learning and Research in Danville, VA.