November First Saturday Outing
November 2, 2019
10:00 AM - 2:00 PM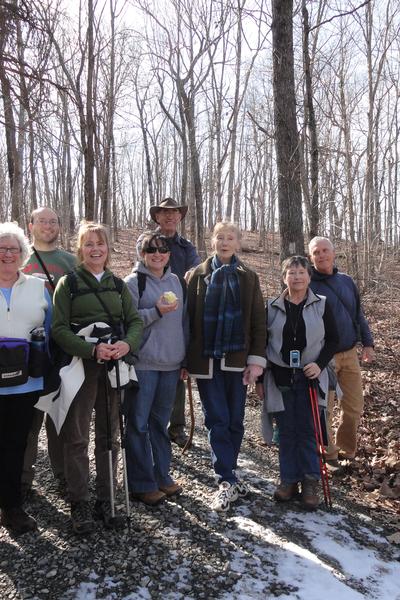 HIKE AT GRASSY HILL NATURE PRESERVE IN ROCKY MOUNT, VA

The Dan River Basin Association (DRBA) invites you to participate in its First Saturday Outing on November 2 in Rocky Mount, Virginia: a 4.2-mile hike through the rare woodland communities of Grassy Hill Natural Area Nature Preserve.

Participants will meet at 10:00 a.m. at Gereau Center, 150 Technology Drive, Rocky Mount, VA (GPS 37.01448,-79.89529). Coordinator for the outing is former DRBA Board member and avid hiker Ellen Jessee, who grew up in Rocky Mount viewing Grassy Hill out her kitchen window, so she is thrilled to have it preserved as a Virginia Natural Area. She comments, "I always wondered why it was called Grassy Hill, since it has always had a forest on it ever since I can remember. Now I know it was once a meadowland, but that must have been a very long time ago!"

Jessee promises that the hike will begin at a leisurely pace through moderately steep terrain on the Slope Trail. Robin Davis, coordinator of DRBA's 2014 outing at the site, comments, "It's a very peaceful trail, with just the right amount of challenge for good exercise. It's well paced out, with some incline and some level, winding back and forth with lots of switchbacks, so you're not going straight up the hill." Once at the summit, the group will walk the East Loop Trail.
Jessee is correct about Grassy Hill's name. It was once open meadowland, probably sustained by fire. Today, however, only small openings in the oak-hickory forest occur near the hill's summit. The three-mile-long ridge, a prominent landmark in western Rocky Mount, is now covered with a dense canopy of mainly hardwoods, dotted with rocky outcrops.
The thin, magnesium-rich soil on Grassy Hill supports rare plant communities, which helped to spur the 1300-acre site's preservation in 1999. Open areas in the forest hold remnants of these sun-loving wildflowers, such as grass-leaf blazing star and glade wild quinine. Prescribed burns, forest thinning, and invasive species control are among the stewardship activities employed by the Virginia Department of Conservation and Recreation to maintain and restore the preserve.
Participants in the outing are asked to bring lunch, water, and hiking poles and wear hiking boots or walking shoes. They should dress in layers of synthetic fabric or wool, and be prepared for wind or rain. All participants will be asked to sign a waiver.

DIRECTIONS: To reach the trail, follow US 220 to Rocky Mount, Virginia. Exit onto US 220 Business SOUTH into town. Go 0.7 miles south on Business US 220 (North Main Street), passing through one stoplight. Turn right (west) onto Technology Drive and go 0.1 mile downhill to the trailhead kiosk on the right (north) side of Technology Drive. Park in the parking lot for the Center for Energy Efficient Design at the Gereau Center, 150 Technology Drive.
MORE INFORMATION: For more information, contact Ellen Jessee, 276-734-1317. ejessee.pls@comcast.net

Outings and meetings of the Dan River Basin Association are free and open to the public. For more information, visit www.danriver.org.