Volunteers Needed! Outdoor Classroom Sprucing
January 25, 2020
10:00 AM - 2:00 PM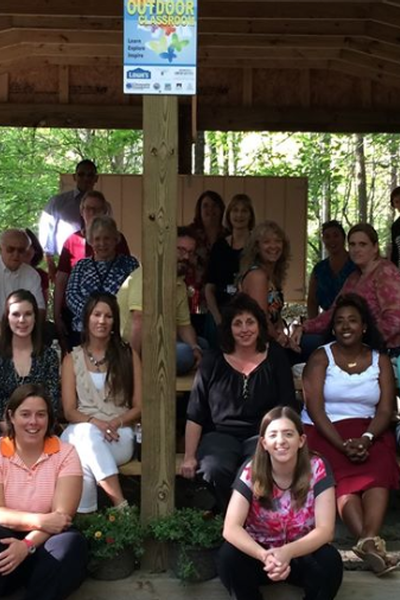 On Saturday, Jan. 25, DRBA is teaming up with the Rockingham County Education Foundation to spruce up two outdoor classrooms at Western Rockingham Middle School. One is located in the school's courtyard and another is located along a lovely trail adjacent to Big Beaver Island Creek behind the school. Meet at the school at 10 a.m.
We'll be spreading mulch, cleaning and stocking bird feeders, marking the trail with blazes, picking up litter, and clearing the existing trail of fallen tree limbs and other debris.
Your efforts will make these nature-based learning spaces attractive for students and educators. More time outside!
Lunch and T shirts are provided. If you have gloves and a rake, please bring those items. All volunteers will be asked to sign a waiver.
Please RSVP by emailing Jenny at jedwards@danriver.org or comment below so we can be sure provide lunches for all the ravenous volunteers! If you have special dietary requests, please email Jenny.
The outdoor classroom on Big Beaver Island Creek was made possible through past support from Reidsville Area Foundation, Duke Energy Water Resources Fund, Lowes Home Improvement, UMAR at the Rock, The Conservation Fund, Rockingham County Schools, Rockingham County Engineering and Public Utilities, Town of Madison, The Mad Bean, Rasa's Bakery, and DRBA members.
(Photo of teachers at the outdoor classroom next to Big Beaver Island Creek.)