April FSO
April 4, 2020
10:00 AM - 2:00 PM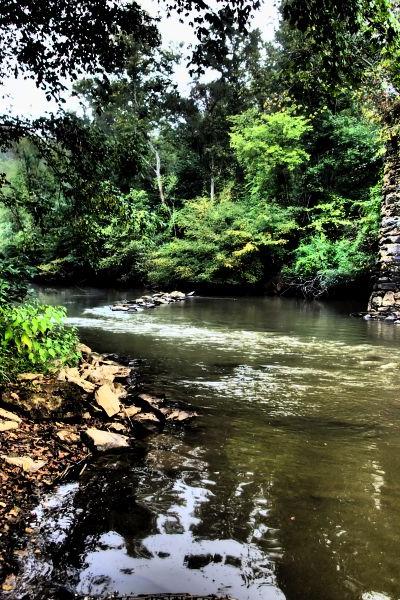 THIS EVENT IS POSTPONED.
PLEASE CHECK BACK OFTEN FOR UPDATES ON THE MAY FSO!
Float the Banister River
For its April 4 First Saturday Outing (FSO), the DRBA will return to a section of the Banister River for the first time since 2016. Trip coordinator for the 6.2-mile float from King's Bridge Landing (VA Scenic Byway 360) to Terry's Bridge (US Highway 360) is Halifax Town Manager Carl Espy, avid paddler and former DRBA board member.
Boats and gear may be rented from Three Rivers Outfitters in Eden, NC, 336-627-6215, www.3-r-o.com.
Participants will meet at King's Bridge Landing, 1041 Bethel Road, Halifax, VA, GPS (36.776946, -78.916697), at 10:00 a.m. on Saturday, April 4, to set the shuttle and begin the float. Directions may be obtained at http://www.danriver.org/interactive-map.
Portions of the riverine environment have changed very little since the time Colonel William Byrd, II travelled through the "charming low grounds" when returning to his Westover Plantation near Richmond from North Carolina with John Banister, III, the son of Virginia's first naturalist and English clergyman, for whom the river was named. "We pitched our tents upon Banister River, where we feasted on a young buck which had the ill luck to cross our way." A Journey to the Land of Eden in the Year 1733.
For a century this section of the river was plied by flat-bottomed batteaux, the "semi-trailers" of nineteenth century watercourse commerce. "If the Banister is running low and clear, you'll be able to see the remains of nineteenth century batteau sluices and many other interesting features," says Espy.
"This particular section of the river," he continues, "has sparked a great deal of interest with local historians, area planners, naturalists and a variety of state agencies because of its rich historic, cultural and natural features," including what The Dan River Atlas terms "some of the best preserved batteau sluices in Virginia." 63.3 miles of the Banister, which flows past the
Town of Halifax, are designated a State Scenic River. It is a tributary of the Dan River sub-basin and the Roanoke River Basin. From roaring rapids to tranquil creeks, the Virginia Scenic Rivers System reflects the diversity of Virginia's natural landscape. Each scenic river possesses outstanding aesthetic, natural, historic and recreational features. The 50th anniversary of the Virginia Scenic Rivers Program in 2020 is an occasion to celebrate these special rivers and the communities that care for them; go to: https://www.dcr.virginia.gov/recreational-planning/sr50
Participants are asked to meet at 10:00 a. m. at King's Bridge Landing, 1041 Bethel Road, Halifax, VA, GPS (36.776946, -78.916697), on the west side of Virginia Scenic Byway 360 just north of downtown Halifax, VA. Dress in synthetic fabric, be prepared to get wet, and bring boat, paddles, life jacket for each boater, lunch, and water. Although the trip is not technically demanding or hazardous, all boaters will be asked to sign a waiver.
To reach the put-in from US 58 at South Boston, VA, turn north on US 501. Continue 1.4 miles onto Broad Street, which becomes Wilborn Avenue. Drive 0.5 mile, then continue 4.6 miles onto US 501/Halifax Road, which becomes Main Street in the Town of Halifax. When US 501 turns left, continue straight onto Bethel Road (VA 360) for 0.2 mile to the landing.
All First Saturday Outings of the Dan River Basin Association are free and open to the public.
For further information about the trip, contact Carl Espy, 434-470-1424, espy4@mindspring.com