August FSO - Banister River
August 1, 2020
9:00 AM - 1:00 PM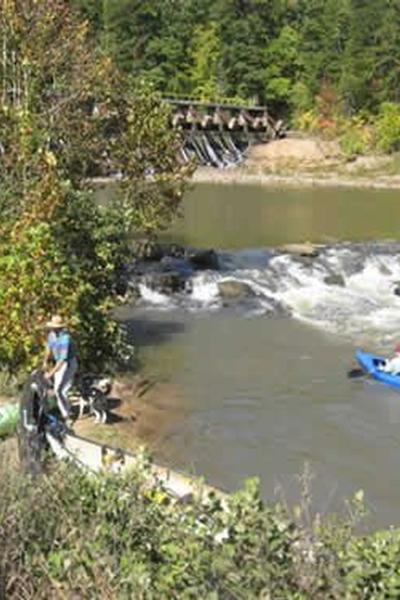 Dan River Basin Association to Paddle Banister Lake
August 1
NOTE: 9:00 a.m.!
For its August 1 First Saturday Outing, the Dan River Basin Association (DRBA) will return to a section of the Banister River for the first time since 2006. Trip coordinator for the estimated 6-mile launch and return excursion to "The Rock House" from the Banister Lake Boat Landing 1125 L.P. Bailey Memorial Highway (US 501), is Halifax Town Manager Carl Espy, avid paddler and former DRBA board member.
Boats and gear may be rented from Three Rivers Outfitters in Eden, NC, 336-627-6215, www.3-r-o.com.
Participants will meet at the Banister Lake Boat Landing, 1125 L.P. Bailey Memorial Highway (US 501), Halifax, VA, GPS (36.78035, -78.9253160), at 9:00 a.m. on Saturday, August 1, to begin the open water paddle early. DRBA Board member Wayne Kirkpatrick explained the Outings Committee made a decision to focus on lake paddles as a way to host the events while being socially responsible, in addition to moving up that starting time by one hour, "We received good feedback from our FSO group in July to take advantage of somewhat cooler temperatures for paddler comfort."
The site is featured as the first stop on the Virginia Department of Wildlife Resources' Virginia Birding & Wildlife Trail, Dan River Loop self-guided driving tour (https://www.dgif.virginia.gov/vbwt/sites/banister-lake/): "Here the glassy calm waters of the lake host pairs of belted kingfishers, joined by great blue herons haunting the quiet inlets. In the summer, wood ducks raise their broods along its shores. The banks of the lake are thick with jewelweed and other inviting blooms, which attract an abundance of butterflies. Watch for irruptions of American snout in late summer and marvel in the iridescence of the numerous red-spotted purples."
63.3 miles of the Banister, which flows past the Town of Halifax, are designated a State Scenic River. It is a tributary of the Dan River sub-basin and the Roanoke River Basin. From roaring rapids to tranquil creeks, the Virginia Scenic Rivers System reflects the diversity of Virginia's natural landscape. Each scenic river possesses outstanding aesthetic, natural, historic and recreational features. The 50th anniversary of the Virginia Scenic Rivers Program in 2020 is an occasion to celebrate these special rivers and the communities that care for them; go to: https://www.dcr.virginia.gov/recreational-planning/sr50
Participants are asked to meet at 9:00 a. m. at the Banister Lake Boat Landing 1125 L.P. Bailey Memorial Highway, Halifax, VA, GPS (36.78035, -78.9253160) on the west side of US Highway 501 just north of downtown Halifax, VA. Dress in synthetic fabric, be prepared to get wet, and bring boat, paddles, life jacket for each boater, lunch, and water. Hats and sunscreen are highly recommended. Each participant is encouraged to follow state issued guidelines by practicing social distancing and by wearing a mask when launching or disembarking at the ramp. All participants will be asked to sign a waiver.
To reach the put-in from US 58 at South Boston, VA, turn north on US 501. Continue 1.4 miles onto Broad Street, which becomes Wilborn Avenue. Drive 0.5 mile, then continue 4.6 miles onto US 501/Halifax Road, which becomes Main Street in the Town of Halifax. Follow US 501 at the left turn north toward Lynchburg, then continue straight for 0.3 mile to the landing, turning left into the parking area before the Banister Lake bridge.
All First Saturday Outings of the Dan River Basin Association are free and open to the public.
For further information about the trip, contact Carl Espy, 434-470-1424, espy4@mindspring.com
For information about the Dan River Basin Association, visit www.danriver.org .