CANCELLED! December FSO - Danville, VA
December 5, 2020
9:00 AM - 1:00 PM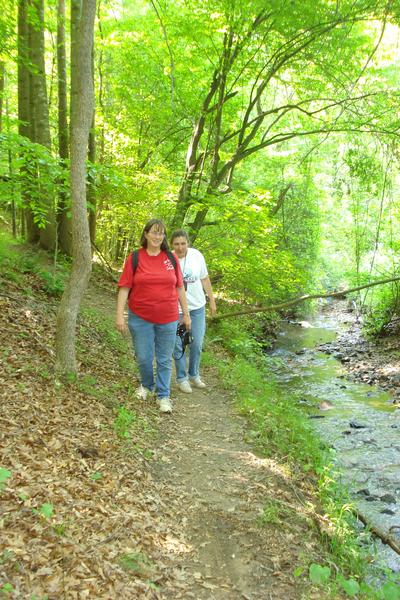 DUE TO NEW RESTRICTIONS ON GROUP GATHERINGS IN VIRGINIA,
THIS OUTING HAS BEEN CANCELLED
DRBA HOSTS DECEMBER 5 HIKE ON ANGLER'S RIDGE MOUNTAIN BIKE TRAIL, DANVILLE, VA
The Dan River Basin Association (DRBA) invites you to participate in its First Saturday Outing on December 5: a 3-mile hike on Angler's Ridge Mountain Bike Trail, Danville, VA. Participants will meet at 9:00 a.m. in the parking lot at Angler's Park, 298 Northside Drive, Danville, VA (GPS 36.5584, -79.3566).
Coordinator for the outing is Wayne Kirkpatrick, an avid hiker and DRBA board member. He comments, "The trail loops at Angler's Ridge are low moderate, natural surface, and part of our hike will be along a small cascading stream – a very relaxing hike with enough elevation change to be a good workout. It's a great late fall place to enjoy the outdoors!"
The Angler's Ridge Mountain Bike Trail system, premiered in 2002, now boasts over 35 miles of natural surface trails over varied terrain. Built by members of the Southern Virginia Mountain Bike Association, the original trail provided a delightful new discovery for a DRBA hike in 2007. The well-marked system offers diverse experiences, with easy paths appropriate for youngsters on tricycles, moderate portions for trail runners and hikers, and challenging technical hills for professional bicyclists. It has received numerous best-in-state awards, as well as recognition as one of the top 25 single tracks in the world.
Like other trails in the Dan River Basin, Angler's Ridge trails have seen a spike in the number of people using the trail in 2020, as more people enjoy the respite of outdoor recreation during the stressful times of the global pandemic. Winding along a creek through forested hills, the trails provide a welcome opportunity to immerse oneself in nature.
All participants are asked to dress in layers of synthetic fabric, wear hiking boots, be prepared for rain, bring hiking stick(s), lunch or snacks, and water, and sign a waiver.
FOR SAFETY, AND TO COMPLY WITH STATE GUIDELINES:
(1) Wear a facemask that covers your nose and mouth.
(2) Social distancing will be observed throughout the hike.
To reach Angler's Park, exit the Danville Expressway (US 58/US 29 By-Pass) at Dan Daniel Park exit. Turn east on River Park Drive (the opposite direction from Dan Daniel Park). Turn right on Northside Drive; bear left at the front gate of North Water Pollution Control Plant to Angler's Park, the southernmost point of the Riverwalk Trail.
Outings and meetings of the Dan River Basin Association are open to the public without charge.
For more information about the outing, contact Trip coordinator Wayne Kirkpatrick, wynbtyk@embarqmail.com, 540-570-3511.