Annual Celebration
March 6, 2021
10:00 AM - 12:00 PM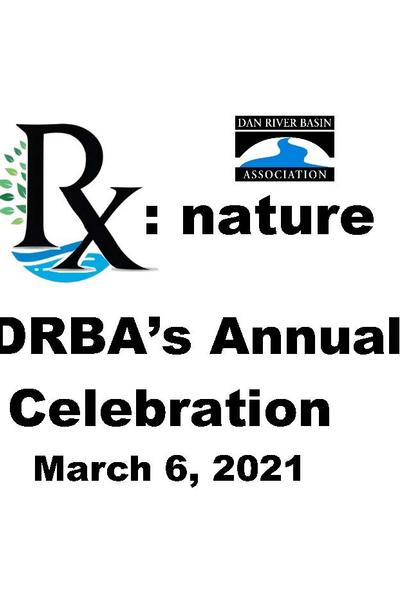 You're invited to a special virtual Annual Celebration meeting on Saturday, March 6.
The Virtual Lobby will open at 9:30am for meet & greet.
The program will begin at 10:00am.
As the Dan River Basin Association (DRBA) marks 18 years of successes, the program will include a special presentation, "An Introduction to the Reynolds Homestead Forestry Research Center," by Kyle Peer, Superintendent, Reynolds Homestead Forest Resources Research and Extension Center.
Highlights during the event will also include DRBA's accomplishments in 2020, a preview of the organization's 2021 activities, annual awards, a business portion, prizes and a virtual hike at a new trail in Virginia.
In addition, DRBA will launch a new game at the event.
DRBA's Annual Celebration will be streamed from the Spencer Penn Centre in Spencer, Va. The public is invited free of charge, but pre-registration is required.
The virtual lobby will open at 9:30am and guests will have an opportunity to meet and greet until the program begins at 10:00am.
The short business session will include recognition of extraordinary volunteer service and election of board members. The day's activities will reflect DRBA's mission—preserving and promoting the region's rivers and culture through education, recreation, stewardship, and regional identity.
With preservation of the rivers at the heart of DRBA's focus, work continues to preserve and promote the natural resources of the basin. Staff members, including Executive Director Tiffany Haworth and program managers and coordinators from both Virginia and North Carolina, will report on DRBA's many activities throughout the past year, as well as provide a glimpse of the year ahead.
Encompassing portions of sixteen counties in Virginia and North Carolina in its 3300-square-mile watershed, the Dan River Basin includes six rivers—the Mayo, Smith, Sandy, Banister, Hyco and, of course, the Dan. DRBA was formed in 2002 to preserve and promote the region's abundant natural and cultural resources. Recognizing that this beautiful area shares a history of reliance on the rivers for drinking water, transportation, commerce, and industry, DRBA provides a unified vision of cooperation across geographic boundaries.
The program will conclude at Noon.