Water Protector Certificate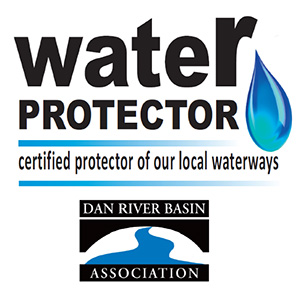 The Water Protector Certification recognizes homeowners and businesses who are successfully taking steps to improve water quality by reducing the amount of storm water and pollution leaving their property. Becoming a Water Protector is a simple way to help protect the Dan River basin.
Even if you can't see a waterway from your home or business, your actions still impact the Dan River and its tributaries. Every time it rains, fertilizers and herbicides, bacteria from pet waste, chemicals and sediment flows from your property into local waterways. This pollution results in everything from cloudy water to algae blooms and can make our waterways unsafe for swimming and fishing.
Anyone in the Dan River basin can become a Certified Water Protector! Click here to complete the Certification Application online.
You can also print the Certified Water Protector Application and submit via mail to the following address.
Dan River Basin Association
413 Church St., Suite 401
Eden, NC 27288
---
What's on the Certification Application?
You will be asked to document Water Friendly Practices, Everyday Actions, Best Management Practices for Farming (if applicable), Protect Storm Drains, or Proper Septic System Care activities you are doing at your home or business. These things include activities like a rain barrel(s), native plantings, streamside vegetation plantings, rain garden(s), permeable pavers, committing to turn off the water while brushing your teeth, limiting shower time, recycling, scooping dog waste, composting and mowing practices. You don't need to do them all, but you will be asked to upload pictures and documentation of your efforts. You can preview the Certification Application before you get started.
---
Rewards
In addition to doing your part to protect our waterways, Certified Water Protectors receive great rewards for their hard work. Once you complete your Certification Test and return it, you will receive a welcome email with details about where to get discounts at local garden stores and nurseries in the basin along with how-to information for completing the requirements. You will also receive a window decal for your vehicle or home/business, Water Protector yard sign and garden flag.